World
Sri Lankan hospital hit by mortar shell
Source: CCTV.com | 05-13-2009 09:47
A Sri Lankan government official says a mortar shell which struck a medical facility in the northern war zone has killed 49 patients and bystanders and wounded more than 50.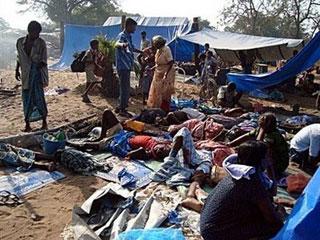 This undated handout picture received on May 12, 2009
from pro-rebel LTTE organisation Tamilnet.com website
shows what it claims are patients at a makeshift
hospital in Mullivaikkal, which housed a stated total
of 2,000 patients at the time of an alleged Sri Lankan
Army artillery and mortar attack that killed 47 in the
morning of May 12, 2009. (AFP/tamilnet.com)
It is the second time this month the facility has come under heavy fire.
The government's top health official in the war zone said a single mortar shell hit the admissions ward in the makeshift hospital. He also expected the death toll to rise.
It came a day after Sri Lanka's Human Rights Minister denied that the government was responsible for shelling the tiny section of coastline still held by Tamil rebels.
Mahinda Samarasinghe, Sri Lanka's Human Rights Minister, said, "No one is able to substantiate the civilian deaths, there are people who have been killed, and I wouldn't be surprised if civilians are being killed in the process, but certainly not intentionally on the part of the government and certainly not by shelling because we are not shelling into the no-fire zone, we are not shelling in to the no-fire zone."
Editor:Zhang Pengfei