World
The world´s best job could be closer than you think
Source: CCTV.com | 05-12-2009 09:46
By Paul Bignell
As you slog to work this week, spare a thought for Tommy Lynch, Helen Moores and Leigh McCarron. And then dismiss them from your mind. Like Ben Southall, who last week was awarded "the best job in the world" on an Australian island, they need little of your sympathy. And like him, they are being paid handsomely to do "jobs" that barely qualify as what the majority of us would call work.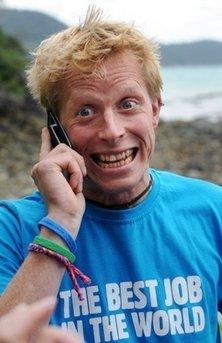 Charity worker Ben Southall telephones
his parents on Hamilton Island in the
Whitsunday Islands, after being awarded
the job of caretaker of an Australian
tropical island. The charity worker
won "the best job in the world" as
caretaker of a tropical island on
Australia's Great Barrier Reef after
an unprecedented global search.