World
Zuma era dawns in S. Africa
Source: Xinhua | 05-11-2009 08:08
by Li Jianmin
JOHANNESBURG, May 10 (Xinhua) -- Jacob Zuma officially became South African president on Saturday when he took the oath of office at the Union Buildings in Pretoria in face of 30,000 people, including 29 heads of state.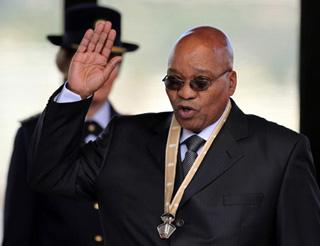 Jacob Zuma takes the oath of office as South Africa's
President at the Union Buildings in Pretoria May 9,
2009. (Xinhua/Reuters Photo)
Led by Chief Justice Pius Langa, he declared: "I, Jacob Zuma, solemnly swear that I will observe and maintain the Constitution of the Republic and I solemnly and sincerely promise that I will always promote all that will advance the public, and oppose all that may harm it."
Zuma swore to "protect and promote the rights of all South Africans" and he said, "I will devote myself to the well-being of the Republic and all of its people."
Zuma started a new chapter in South Africa when he took over from Kgalema Motlanthe. On the inauguration ceremony, Zuma was greeted by a guard of honor by the National Ceremonial Guard, a 21-gun salute, a flight by four helicopters of the South African Air Force (SAAF), a massed fly past by aircraft of the SAAF, and a display by the Silver Falcons.
After being sworn in, Zuma walked down to the public lawn and addressed to tens of thousands of people gathered there, where the songs "Mshini Wam" and "My President" were sung.
The theme for the inauguration was: "Together celebrating a vibrant democracy and building a better life for all."