China
Swiss pavilion unveils expo exhibits
Source: CRI | 05-08-2009 13:53
Special Report: 2010 Shanghai Expo Countdown

The Swiss Pavilion unveiled a revolving chair lift system that lifts visitors from the ground floor to a grass-covered rooftop terrace at the World Expo Shanghai Exhibition Center Thursday.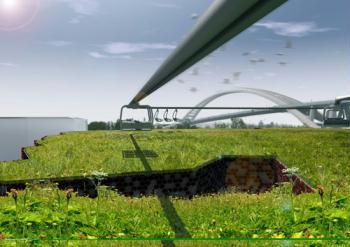 An artist's rendition of the chair lift on the rooftop.
[Photo: CRIENGLISH.com]
It became the first national pavilion to publicly showcase its exhibits on Thursday at the opening of the "Promotion Week of the Swiss Pavilion" in Shanghai.
The Swiss Pavilion also introduced a semi-transparent facade made of aluminum netting fitted with 11,000 intelligent solar cells that envelops the pavilion.
These cells interact with energy from the sun or camera flashes, converting it into bursts of light that make the facade sparkle, according to the official website of the Swiss Pavilion.
Blaise Godet, the Swiss ambassador to China, said at the opening that the year 2010 will be very special for China and Switzerland, not only because of the Expo, but also because the two countries will celebrate 60 years of diplomatic relations.