World
UN inquiry accuses Israel of negligence
Source: CCTV.com | 05-06-2009 09:30
A UN inquiry has accused Israel of gross negligence and recklessness in attacks on UN property in Gaza. The incidents allegedly took place during Israel's three-week offensive in the Strip, which began December 27th last year.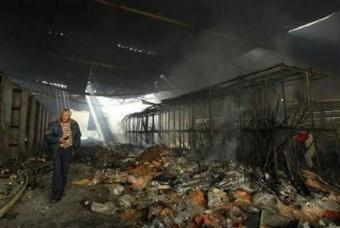 A local U.N. worker stands inside the United Nations
compound that was struck by Israeli fire, during the
visit of U.N. Secretary-General Ban Ki-moon (not
pictured) in Gaza City in this January 20, 2009 file
photo.REUTERS/Suhaib Salem/Files
UN chief, Ban Ki-moon, appointed the inquiry board in February. He says he intends to seek compensation for damage put at over 11 million US dollars, but he would not follow the panel's call for further investigations.
Israeli officials have rejected the report as one-sided. They say the report ignores the fact that Israel was fighting a war against what it calls a "terrorist" organization, the militant group Hamas.
Israel's military made its own investigation into the conduct of the Gaza campaign. It said last month it had found no serious misconduct by its troops, who had acted within international law.
Editor:Zhang Yun