China
Tibet starts building 5th civil airport
Source: Xinhua | 04-30-2009 08:52
Special Report: Tibet in 50 Years

XIGAZE, Tibet, April 29 (Xinhua) -- Tibet Wednesday started construction on its fifth civil airport in the southwest China's autonomous region, according to local authorities.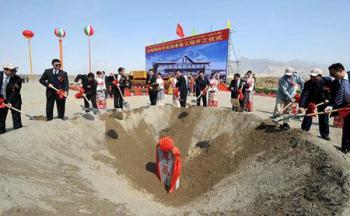 The inauguration ceremony on construction work of the Peace
Airport, Xigaze Prefecture, southwestern Tibet, is held on
April 29, 2009. (Xinhua/ Chogo)
The government would invest a total 480 million yuan (70 million U.S. dollars) in the airport in Xigaze, the second-biggest city in Tibet, said Xu Bo, head of the Civil Aviation Administration's Tibet Branch.
Construction work on the Peace Airport, at an altitude of 3,782meters, would be finished in two years, Xu told Xinhua.
Yan Ping, cheif commander of the construction work, said the airport was designed to handle 230,000 passengers and 1,150 tonnes of cargo and mail a year by 2020.