China
SEF Chairman arrives in Nanjing for new talks
Source: CCTV.com | 04-25-2009 12:55
Special Report: 3rd round of cross-strait talk

Chief negotiators from both sides of the Taiwan Straits are in Nanjing, for a new round of cross-strait talks scheduled on Sunday.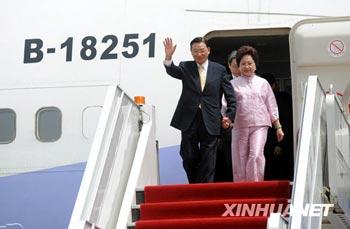 Chairman of the Taiwan-based Straits Exchange Foundation
(SEF) Chiang Pin-kung and his wife arrive for the third
round of cross-straits talks, in Nanjing, capital of east
China's Jiangsu Province, April 25, 2009.(Xinhua/Han Yuqing)
Taiwan's chief negotiator, Chiang Pin-kung, arrived in the capital of Jiangsu province less than a hour ago. The chairman of the Straits Exchange Foundation, or SEF, is leading a 22-member delegation.
Sunday will see the third round of talks in less than a year between Chiang Pin-kung and Chen Yunlin, president of the mainland's Association for Relations Across the Taiwan Strait or ARATS.
According to Chiang, the two sides expect to sign agreements concerning regular cross-strait flights, joint efforts on cracking down on crime, and financial cooperation during the talks.