China
Commentary: Chinese ocean presence a must for peaceful development
Source: Xinhua | 04-24-2009 08:42
Special Report: Chinese navy 60th anniversary

BEIJING, April 23 (Xinhua) -- After more than a year of preparations beneath local residents' eyes, an international fleet review massed in the water through which foreign warships entered China with opium in the 1890s.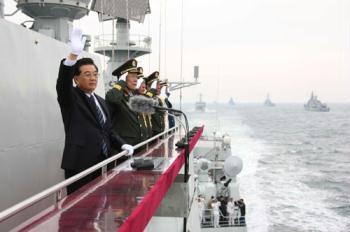 Chinese President Hu Jintao (L) waves to the navy vessels
which are being reviewed while aboard the destroyer
Shijiazhuang in waters off Qingdao, east China's Shandong
Province, April 23, 2009. A parade displayed 25 naval
vessels and 31 aircrafts of the PLA Navy, including two
nuclear submarines, as part of a celebration to mark the
60th anniversary of the founding of the PLA Navy.
(Xinhua/Wang Jianmin)
There were limited options for the nation, which at the time was hiding behind its walls, to stake claim to its maritime interests on a planet three-quarters covered by water.