China
President Hu meets foreign navy delegations
Source: CCTV.com | 04-23-2009 19:17
Special Report: Chinese navy 60th anniversary

President Hu Jintao, who is also chairman of the Central Military Commission, has met the heads of foreign navy delegations in East China's Qingdao city. Representatives of 29 foreign navies are participating in celebrations for the 60th anniversary of the Chinese Navy.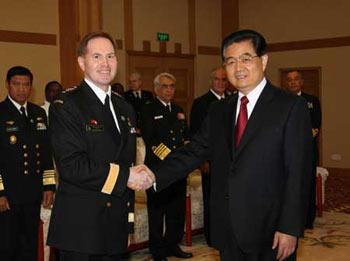 Chinese President Hu Jintao (R), also chairman of the Central
Military Commission, shakes hands with Canadian navy
Rear-Admiral Tyrone Pile in Qingdao, east China's Shandong
Province, on April 23, 2009. Hu Jintao met here Thursday with
heads of foreign navy delegations attending celebrations
marking the 60th anniversary of the founding of the Chinese
People's Liberation Army (PLA) Navy.(Xinhua/Wang Jianmin)
Hu Jinatao said China's armed forces, including the People's Liberation Army Navy, will always be an important force in safeguarding world peace and development, and China will never be a threat to other nations.
He also said that China would never seek hegemony, nor would it turn to military expansion or arms races with other nations. Hu said China will unswervingly follow the road of peaceful development, which demands China adhere to its defensive national defense policy.
Hu urged the nations to respect each other's sovereignty and interests and to seek mutual development while combating conventional and non-conventional threats in the oceans and protecting maritime safety.
Speaking for the foreign navy delegations, Admiral Julio Soares de Moura Neto, commander of the Brazilian navy, thanked President Hu and congratulated the PLA Navy for its 60th anniversary. He also expressed his appreciation for the efforts of the Chinese government and the PLA Navy in building a harmonious ocean.
Editor:Zhang Ning