China
China needs to build its own aircraft carriers
Source: CCTV.com | 04-23-2009 13:40
Special Report: Chinese navy 60th anniversary

Click for more news in News Hour>>
For years, the prospect of China having an aircraft carrier was a subject of a great deal of rumor and speculation. The issue came to light this March, after a number of senior Chinese military officials confirmed the Navy's desire to acquire a carrier. And even more, China needs to build its own aircraft carriers.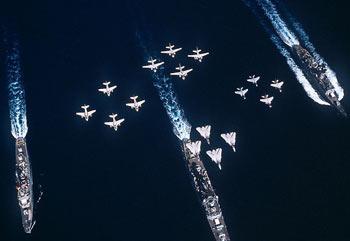 An aircraft carrier is the symbol of the ultimate military
power at sea.
An aircraft carrier is the symbol of the ultimate military power at sea. It acts as a seagoing air base, allowing a naval force to project air power at great distances on its own. The carriers are generally accompanied by battle ships, often with considerable firepower.
The Chinese Navy is fully aware that having an aircraft carrier will trigger jitters overseas. In the past, it's traditionally refrained from commenting on the subject. But this March, military officers broke the silence, acknowledging the need for China to develop its own aircraft carrier.
In early March during the National People's Congress session a senior naval officer who is also an NPC deputy said China has the ability to build an aircraft carrier. Wu Huayang called it the will of the people, something necessary for the development of the Chinese navy, as well as being a symbol of China's growing position in the world.
A few weeks later, when meeting Japanese military officers, Defense Minister Liang Guanglie said China will not remain the world's only major country without an aircraft carrier. He said the navy is relatively weak, and needs to be strengthened.