China
PLA Navy mark anniversary in the Gulf of Aden
Source: CCTV.com | 04-23-2009 13:26
Special Report: Chinese navy 60th anniversary

Click for more news in News Hour>>
Today marks the 60th anniversary of the founding of the Chinese People's Liberation Army navy. Activities, including a naval parade featuring China's strength in coastal defense, are underway off the coast near Qingdao. President Hu Jintao is onboard a PLA Navy destroyer for a fleet review.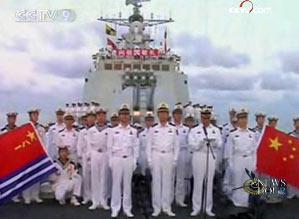 The PLA Navy is holding activities to mark the
anniversary off the waters of far-away Somalia.
The ceremony was held after naval ships successfully accomplished an escort mission earlier.
Three naval vessels -- the Shenzhen, Huangshan, and Weishanhu -- are on China's first-ever anti-piracy mission. They are the second group of Chinese ships to patrol gulf and other waters off Somalia, where rising piracy has been endangering intercontinental shipping.