China
Naval parade to kick off soon
Source: CCTV.com | 04-23-2009 13:22
Special Report: Chinese navy 60th anniversary

Click for more news in News Hour>>
Today marks the 60th anniversary of the founding of the Chinese People's Liberation Army navy. Activities including a naval parade featuring China's strength in coastal defense, will be held in Qingdao this afternoon.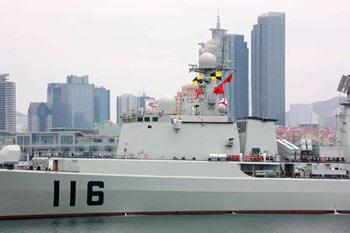 The Chinese People's Liberation Army (PLA) Navy's missile
destroyer Shijiazhuang is ready to join the PLA naval fleet
parade marking the 60th anniversary of the founding of the
PLA Navy in Qingdao, east China's Shandong Province, on April
23, 2009.(Xinhua/Li Gang)
President Hu Jintao is in the eastern coastal city. He's met with heads of the 29 foreign naval delegations participating in the celebrations.
All three of China's fleets will be represented in the parade. All aircraft and submarines, as well as the majority of destroyers and frigates, come from the Qingdao-based PLA Navy North China Sea Fleet. The other ships are from East China Sea and South China Sea Fleets.
China's nuclear-powered submarines will make their first public appearance. Other activities include a flypast by PLA Navy aircraft, and a fleet review attended by 21 foreign vessels from 14 countries.