China
Reconstruction in Tibet´s quake-hit Damxung County to start
Source: Xinhua | 04-21-2009 11:02
Special Report: Tibet in 50 Years

Special Report: Post-quake reconstruction

BEIJING, April 21 (Xinhuanet) -- Post-quake reconstruction in Tibet's Damxung County will start before May depending on weather conditions, in a bid to ensure project quality, according to a leading official.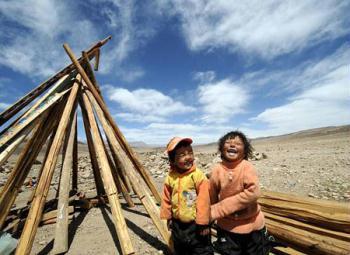 Two children play near the timber for house building at
the quake-hit area of Yangyi Village, Geda Town, Damxung
County of Lhasa, capital of southwest China's Tibet
Autonomous Region, on April 20, 2009. (Xinhua Photo)
A 6.6-magnitude earthquake jolted Damxung County on October 6, 2008, with Yangyi Village hit the hardest. Since all the houses and barns of the 151 households were flatterned, villagers could only live in tents provided by the government.