China
US admiral: China naval strength no surprise
Source: China Daily | 04-20-2009 09:19
Special Report: Chinese navy 60th anniversary

The growth of China's navy is in line with its economy and "it's no surprise to see it develop the way that it has", a top US naval officer said on Sunday.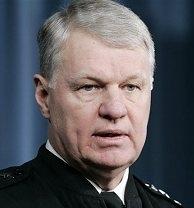 Chief of US Naval Operations Adm.
Gary Roughead at the Pentagon.
[File Photo]
"The advancement and growth of the PLA navy are consistent with China's economic advancement and its role in a globalized world," Admiral Gary Roughead, US Chief of Naval Operations, said at a news conference in Beijing.
Roughead soothed worries in some quarters about China's plan to build its first aircraft carrier.
"There has been no doubt in my mind that the acquisition of an aircraft carrier and carrier aviation was something that was clearly an ambition and an objective of the PLA navy," he said.
"The advent of an aircraft carrier on the part of the PLA navy, to me, really doesn't change the nature of our operations at all."
The Pentagon, in its annual report on the Chinese military released on March 25, repeated the litany of "limited transparency". Beijing dismissed it as a distortion of facts.