China
Premier Wen Jiabao meets world leaders
Source: CCTV.com | 04-19-2009 09:19
Special Report: Boao Forum for Asia 2009

The Bo'ao Forum is also a stage for bilateral exchanges. Premier Wen Jiabao has held individual meetings with several current and former foreign leaders, as well as leaders from Hong Kong and Macao, and the representative from Taiwan. A common topic is joint efforts in the global financial crisis.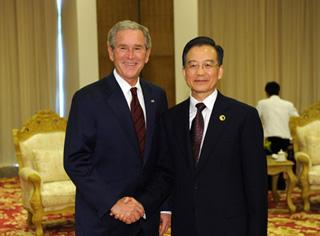 China's Premier Wen Jiabao (R) meets with former U.S.
President George W. Bush, in Boao, south China's Hainan
Province, April 18, 2009. Bush arrived here to attend
the Boao Forum for Asia (BFA) Annual Conference 2009
held from April 17 to 19. (Xinhua/Huang Jingwen)
During his meeting with Pakistani President Asif Ali Zardari, Wen Jiabao stressed the need to implement existing energy and transportation deals. He wants the two sides to explore more ways to cooperate to benefit their peoples. Zardari said he's willing to work more with China in trade, finance, and security.
Wen Jibao placed great importance on Sino-US ties with former US President George Bush.
He said the two countries share broader interests in the face of the current global challenges, and joint efforts are needed for their own benefit and that of the world.
Bush confirmed the positive impact of China's stimulus package, and called for more cooperation to maintain the economic growth of both countries, which is crucial to the world economy.