China
Religion, modernity co-exist in harmony
Source: Xinhua | 03-31-2009 17:28
Special Report: Tibet in 50 Years

BEIJING, March 31 (Xinhuanet) -- Lighting up a ghee lamp devoutly, turning a prayer wheel slowly and spending a day walking around colored Mani stone mounds -- traveling hundreds of miles from a pasture more than 4,300 m above sea level to the Jiana Mani Stone Mound in Xinzhai Village in Qinghai has become a routine journey for Daluo in spring.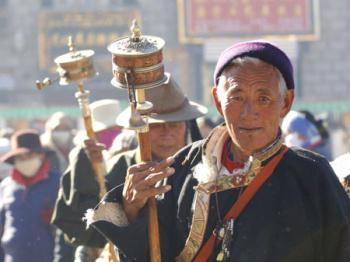 Buddhism followers of the Tibetan ethnic group spin their
prayer wheels to spread spiritual blessings to all sentient
beings and invoke good karma in their next life when walking
on a street in Lhasa, capital of southwest China's Tibet
Autonomous Region, in November 2007.(Xinhua/Soinam Norbu)
Daluo, 62 years old, is a herdsman in Maduo Township, Qumalai County, Yushu Tibetan Autonomous Prefecture in northwest China's Qinghai Province. Before the pastures turn green, he and his neighbors once again traveled to Jieshi County that is more than 400 km away from his hometown.
Jieshi County is the capital city of the Yushu Tibetan Autonomous Prefecture, and also the economic and cultural center of the region. Apart from seeing doctors, shopping and visiting relatives and friends, the main purpose of Daluo's trip is to visit the Mani stone mounds.