China
Tibetans embrace spring
Source: CCTV.com | 03-11-2009 08:57
Special Report: Tibet in 50 Years

Special Report: Tibetan New Year

Click for more news in World Wide Watch>>
Tuesday marks the end of celebrations for the Tibetan New Year. But the festive atmosphere remains, as the weather turns warm in Lhasa and local people and tourists look forward to the year ahead.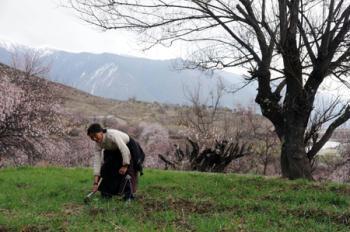 Villager Zhoema of the Tibetan ethnic group works in the
field at the bank of the Nyang River in Nyingchi of southwest
China's Tibet Autonomous Region, March 8, 2009. Peach trees
have blossomed to welcome the spring season in the area.
(Xinhua/Ye Hui)
Early in March, streets in Lhasa have been decorated by flowers. Although it is too early to full blossom, there is no doubt that the trademark sunshine will bring about a colorful spring in just days.