China
Deputies from Tibet: People´s life greatly improved
Source: CCTV.com | 03-07-2009 13:28
Special Report: Tibet in 50 Years

Special Report: 2009 NPC & CPPCC Sessions

Tibet remains stable and the Autonomous region is ready to welcome Serf Emancipation Day on March the 28th. The NPC Deputies from Tibet gave that assessment at a panel discussion at the Great Hall of the People.
There are always some voices outside of China that criticize the current situation in Tibet, despite the significant changes over the last fifty years that have brought more prosperity to the Autonomous region. However, the most convincing viewpoints on what Tibet is like today should come from the people who actually live on the plateau. Let's hear what the deputies have to say about what's happening in their homeland.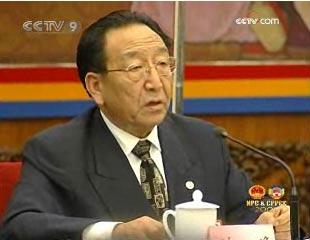 Legqog, one NPC deputy from Tibet
Legqog, one NPC deputy said "The Serf Emancipation Day symbolizes the Tibetan people becoming the real masters of the region and their lives. The abolishment of serfdom is a historical progress of the social system and the human rights in Tibet. It is profoundly meaningful in the human rights history of China, and the world. "
Legqog says this is also a measure to counterattack the Dalai Lama's efforts to split the country.
The deputies condemned the Dalai Group's conspiracy to separate Tibet from China.
Qiangba Punco, one NPC deputy said "The March 14 riot last year proves that the Dalai Group is the key factor for the instability in Tibet. The old Tibetan regime is a combination of politics and religion. So Dalai Lama is not qualified to say he just wants to be a Lama without any political intent."