China
50th anniversary of democratic reform in Tibet
Nyima Cering, vice chairman of Standing Committee, Tar People's Congress, said, "Today's Tibet would not have been established without the democratic reforms. Our struggle with the Dalai Lama is not an ethnic issue, a religious issue or a human rights issue. Neither is this an issue of autonomy. The point is safeguarding our country's unity. It's an issue of progress or going backwards."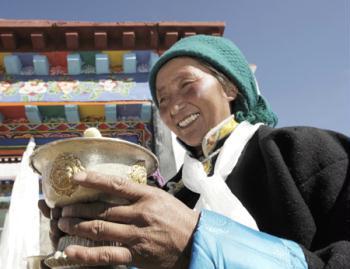 A Tibetan villager toasts during a ceremony for moving into
her new house in Kunggar Town of Maizhokunggar County in
Lhasa, capital of southwest China's Tibet Autonomous Region,
Feb. 11, 2009. Twenty-four families of farmers and herders
in Kunggar moved into new houses ahead of Tibetan new year
which falls on Feb. 25. Some 312,000 farmers and herders
from 57,800 families had moved from shanty homes into new
solid brick houses in Tibet in 2008 under a government-
subsidized housing project aimed at improving living
conditions.(Xinhua/Purbu Zhaxi)
In 2008, GDP in the region reached nearly 39.6 billion yuan, 65 times greater than in 1959. Population also increased rapidly over the last five decades.
In January this year, the regional government announced that March the 28th would be celebrated as Serf Emancipation Day.
Editor:Zhang Ning