China
Tibet develops since democratic reform
Source: CCTV.com | 03-03-2009 13:43
Special Report: Tibet in 50 Years

Special Report: Tibet Today

Click for more news in News Hour>>
A senior Tibetan official says people of all ethnic groups in the region have created miracles since the democratic reform 50 years ago. The Vice-Chairwoman of the Tibet Autonomous Region gave that assessment on Monday at a press conference in Lhasa.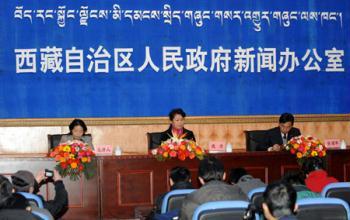 A press conference is held in Lhasa, capital of southwest
China's Tibet Autonomous Region, March 2, 2009, for the
white paper titled "Fifty Years of Democratic Reform in
Tibet" released by the Information Office of the State
Council, or China's Cabinet. (Xinhua/Chogo)
Vice-Chairwoman Deje said because of the democratic reform, people in Tibet can enjoy the rights to elect and to be elected.