China
Chinese against sale of lost treasures
Source: CCTV.com | 02-27-2009 09:49
The two lost treasures of Beijing's Old Summer Palace were sold for 14 million Euros each in Paris on Wednesday, a new record among the 7 known lost sculptures of a set of twelve.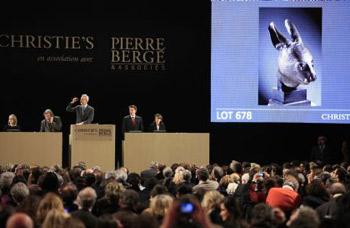 The bronze sculpture of a rabbit's head, which is an ancient
Chinese relic, is auctioned in the Grand Palace of Paris in
Paris, France, Feb. 25, 2009. Two controversial ancient
Chinese relics including the bronze sculptures of a rat's
head and a rabbit's head, were auctioned off on Wednesday
night for 14 million euros each by anonymous telephone bidders
in Christies's sale of the collection of Yves Saint Laurant
and Pierre Berge in Paris. The sculptures were looted by
invading Anglo-French expedition army in the 19th century,
when the invaders burned down the royal garden of
Yuanmingyuan in Beijing.(Xinhua/Zhang Yuwei)
The sale went ahead despite China's strong opposition and has raised serious concern in Chinese societies worldwide. Some volunteers are still trying to retrieve the relics through legal channels.
The big deal has generated big heat.
Voting results on major Chinese web portals show that nearly all respondents oppose the sale of the two lost treasures.
The sentiment is also shared on the street.
"I'm totally against the auction. The two heads were looted and they belong to China."
"I'm sorry the auction happened. Many Chinese treasures like these two are lost. I think the government could play a key role to retrieve them."
Liu Yang heads a volunteer team of lawyers working on retrieving the items through the French legal system.
Their initial case to stop the auction failed, but they're not about to give up.
Liu Yang, lawyer of Beijing Tianyi Law Firm, said, "If someone gets the two treasures through the auction, we'll sue the buyer, along with the auction house and Pierre Berge, because they deal in legally controversial items after acknowledging our notice. We consider this to be malpractice."
But this will be quite a challenge, because the buyers made their bids by telephone, and their identities remain unknown.
Christie's Auction House sent us a statement right after the deal, saying that it continues to believe that the auction process offers a valid opportunity for items to be repatriated through public exposure and sale. But the Chinese government disagrees.
China retrieved 3 bronze heads through auction in 2000. In 2003, Macao's gaming mogul, Stanley Ho, bought another 2 and donated them to the country.
Many say buying them has driven up their price. When the heads first appeared on the bidding market in 1985, they were valued at only 500 US dollars each. That's now rocketed to tens of millions.
It looks like there's still a long, and likely costly road for China to bring its lost treasures home.
Editor:Zhang Ning