China
Chinese VP discusses bilateral ties with Colombian President
Source: CCTV.com | 02-17-2009 09:03
Special Report: Xi visits L. America, Malta

Chinese Vice President, Xi Jinping, is in Colombia to continue his official visit to the South American country.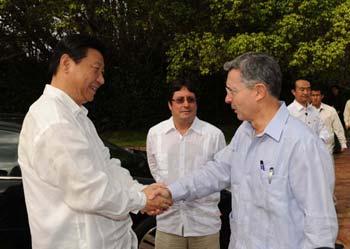 Visiting Chinese Vice President Xi Jinping meets with Colombian
President Alvaro Uribe in Cartagena, a port city of Colombia,
on Feb. 15, 2009.(Xinhua/Ma Zhancheng)
Xi Jinping discussed bilateral ties with Colombian President, Alvaro Uribe, in Bogota. Next year will mark the 30th anniversary of the establishment of diplomatic relations between the two countries.
Xi Jinping said both sides should seize the opportunity to focus working on enhancing political mutual trust, expanding bilateral trade, broadening cooperation and encouraging investment.
Uribe expressed his gratitude to the Chinese government for its assistance. He said Chinese enterprises are warmly welcome to invest in and develop trade with Colombia. A number of trade agreements were signed on Monday.
Editor:Zhang Ning