China
Chinese, Tanzanian presidents vow to boost friendly ties and cooperation
Source: CCTV.com | 02-16-2009 13:41
Special Report: President Hu visits 5 nations

Click for more news in News Hour>>
Chinese President Hu Jintao has met with the president of Tanzania in Dar es Salaam. They disscussed ways to boost friendly ties and cooperation during Sunday's talks. Hu Jintao also met with Zanzibar's leader and gave interviews to media outlets.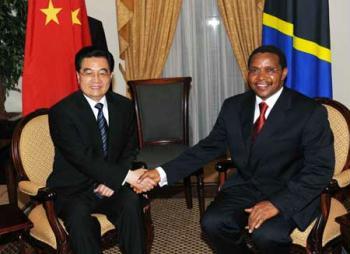 Visiting Chinese President Hu Jintao (L) meets with his
Tanzanian counterpart Jakaya Mrisho Kikwete in Dar es
Salaam, Tanzania, Feb. 15, 2009.
It's President Hu Jintao's first state visit to Tanzania.
As the Chinese leader arrived for talks with Tanzanian President, Jakaya Kikwete, people lined both sides of the street leading to the Presidential Palace to welcome him.
In their hour-long talk, Hu Jintao said Sino-Tanzanian relations have demonstrated a new vitality in recent years.
High-level visits frequent, political trust stronger, cooperation in trade and culture greater.