China
China´s Vice President arrives in Colombia for official visit
Source: CCTV.com | 02-16-2009 09:05
Special Report: Xi visits L. America, Malta

Click for more news in World Wide Watch>>
China's Vice President Xi Jinping has arrived in Colombia's northern city of Cartagena from Jamaica, kicking off an official visit to the Latin American country.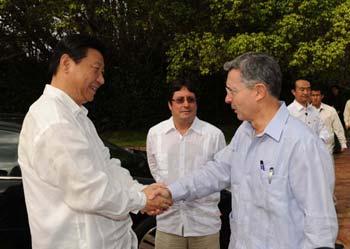 Visiting Chinese Vice President Xi Jinping meets with
Colombian President Alvaro Uribe in Cartagena, a port city
of Colombia, on Feb. 15, 2009.(Xinhua/Ma Zhancheng)
In a written statement upon his arrival, Xi Jinping extended greetings to the Colombian people adding that bilateral ties have grown steadily since the start of diplomatic ties in 1980. He hailed success in exchange and cooperation in the fields of politics, economy, trade, culture, education and technology.
Xi Jinping said his visit aims to deepen relations. Colombia is the third leg of Xi Jinping's six-nation tour. Earlier in Jamaica, the Chinese vice president attended a ground-breaking ceremony for a joint project to build the Montego Bay Convention Center.