China
Chinese vice president arrives in Jamaica
Source: CCTV.com | 02-12-2009 15:10
Special Report: Xi visits L. America, Malta

Vice President Xi Jinping has arrived in Jamaica for an official visit.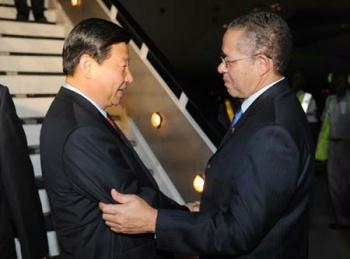 Chinese Vice President Xi Jinping (L) is greeted by Jamaican
Prime Minister Bruce Golding upon his arrival in Kingston,
capital of Jamaica, on Feb. 11, 2009. Jamaica is the second
leg of Xi's six-nation tour, which has taken him to Mexico
and will take him to Colombia, Venezuela, Brazil and Malta.
(Xinhua/Huang Jingwen)
In a written statement released at Kingston Airport on Wednesday, Xi Jinping said his visit aims to strengthen friendship, expand consensus, deepen cooperation and promote common development. He said the Chinese government regards Jamaica as an important cooperative partner in the Caribbean region.
Xi Jinping noted that since the establishment of bilateral diplomatic ties in 1972, relations between the two countries have enjoyed steady growth, and they have carried out successful economic cooperation and trade.
During his visit, Xi Jinping will hold talks with Jamaican Governor-General Kenneth Hall, Prime Minister Bruce Golding and parliamentary leaders. Jamaica is the second leg of Xi Jinping's six-nation trip, which has already taken him to Mexico. He will also visit Colombia, Venezuela, Brazil and Malta.
Editor:Liu Anqi