China
China, Mexico to work closer together to further ties
Source: CCTV.com | 02-12-2009 09:12
Special Report: Xi visits L. America, Malta

Click for more news in World Wide Watch>>
China and Mexico should work closer together to further ties, especially in times of synchronized global recession. That is the message from Chinese Vice President, Xi Jinping, who has met with Mexican parliamentary leaders. Mexico is the first leg of his six nation-tour around Latin America and western Europe.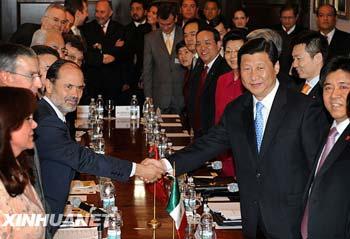 Xi Jinping met with Gustavo Munoz, president of Mexico's
Senate.
Xi Jinping met separately with Gustavo Munoz, president of Mexico's Senate and Cesar Jaquez, president of the Chamber of Deputies.
In talks with top Mexican lawmakers, the Chinese Vice President said improved relations between China and Mexico could not have been achieved without support and participation by the parliaments of both countries.And he added that Chinese and Mexican parliaments should further exchanges and communications.
China appreciates the way the Mexican parliament had handled the issues of Tibet and Taiwan, and its adherence to the one-China policy.
China also thanked Mexico for its humanitarian aid to Sichuan earthquake survivors and victims last year.