World
UN seeks durable Gaza ceasefire
Source: Xinhua | 01-22-2009 13:52
Special Report: Israel airstrikes in Gaza

The UN Security Council has welcomed the ceasefire in Gaza. Members adopted a statement, emphasizing the need for full implementation of Resolution 1860. The statement calls for an immediate, durable and fully respected ceasefire in Gaza.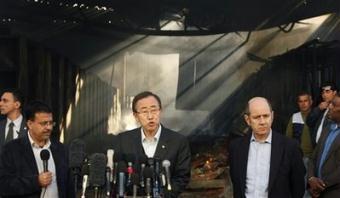 U.N. Secretary-General Ban Ki-moon, center, speaks to the
media as sunlight beams through the damaged roof of the
still-smoldering warehouse at the U.N. headquarters in
Gaza City in the northern Gaza strip, Tuesday, Jan. 20,
2009.(AP Photo/Ben Curtis)
In particular, the resolution urges the ceasefire to be durable and fully respected by all parties. It also calls for a set of arrangements and guarantees to prevent illicit trafficking in arms and ammunition to Gaza. The resolution also aims to ensure the sustained reopening of the crossing points.
Editor:Zhang Yun