China
NATO chief praises China´s participation in anti-piracy campaign off Somalia
Source: Xinhua | 01-20-2009 08:37
Special Report: China navy's escorting mission

BRUSSELS, Jan. 19 (Xinhua) -- The NATO secretary general on Monday praised the Chinese navy's anti-piracy operations off the coast of Somalia and indicated NATO's willingness to work with China on the issue.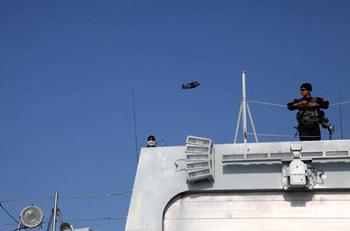 A soldier of Chinese navy special force watches a seabird
flying over him on destroyer "Wuhan", flagship of the
Chinese naval fleet for an escort mission against piracy
off Somali coast, in the Gulf of Aden, on Jan. 18, 2009.
The Chinese naval fleet including two destroyers and a
supply ship set off on Dec. 26, 2008 for waters off
Somalia.(Xinhua/Li Zhen)
"I am applauding what is a rather unique position of the Chinese navy participating in the anti-piracy (campaign)," Secretary General Jaap de Hoop Scheffer told Chinese journalists at a NATO New Year reception.
"I do not exclude, at a certain stage, that when the United Nations would create a sort of roof under which these whole anti-piracy operations take place, NATO and China will meet under that roof," he said.
The deployment of two warships in the Gulf of Aden was the Chinese Navy's first expeditionary military mission.
"I welcome the engagement of China. It is a very important contribution to anti-piracy operations," the secretary general said.
NATO deployed four warships off Somalia in October to escort World Food Program food shipments to Somalia and to patrol the seas to deter piracy. Its mission ended in December. But the alliance is considering a long-term strategy on the piracy issue and stands ready to consider further requests for the use of its naval assets in this regard.
Editor:Zhang Ning