World
Venezuela, Bolivia cut ties with Israel
Source: CCTV.com | 01-16-2009 09:51
Special Report: Israel airstrikes in Gaza

More reaction Venezuela and Bolivia have cut diplomatic ties with Israel to protest its military offensive in Gaza.
The move came a week after Venezuela expelled the Israeli ambassador in a show of solidarity with the Palestinian people and a rejection of the Israelis raids.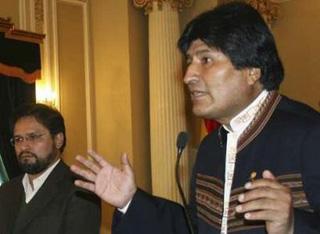 Bolivian President Evo Morales (R) speaks during a meeting
with international ambassadors at right is seen Bolivia's
Government Minister Alfredo Rada at the presidential palace
in La Paz, January 14, 2009.
REUTERS/Bolivian Presidency/Handout
Venezuela released a statement on Wednesday, saying the country cuts diplomatic ties with Israel given the inhumane persecution of the Palestinian people.
Caracas is also planning to denounce Israel's military actions at the International Criminal Court.
Cilia Flores, Venezuelan National Assembly President, said, "President Chavez's government agreed to definitively break relations - all types of relations - with the state of Israel. It also agreed to begin taking international action before the court so that these crimes do not go unpunished."
Also on Wednesday, Bolivian President Evo Morales, announced his country was breaking off ties with Israel.
Morales says he will ask the International Criminal Court to bring genocide charges against top Israeli officials.
Evo Morales, Bolivia's President, said, "Bolivia's government condemns these actions, and suggests it should be an International Court that takes up such matters as a tribunal of international justice and therefore should judge those who are responsible for this massacre."
Meanwhile, hundreds of civilians in Venezuela marched to protest against the Israeli raids in Gaza.
They also demand stronger solidarity among Arab peoples with the Palestinians.
The Venezuelan government has called on people to donate food and medicine for Palestinian youngsters in Gaza.
Editor:Zhang Pengfei