World
Gaza death toll reaches 854 as Israel intensifies offensive
Source: Xinhua | 01-11-2009 08:51
Special Report: Israel airstrikes in Gaza

GAZA, Jan. 10 (Xinhua) -- Shortly before the end of the 15th day of Israeli air and ground offensive, the Israeli warplanes and tanks intensified on Saturday night strikes on different targets in the Gaza Strip, and the death toll has reached 854, witnesses and medics said.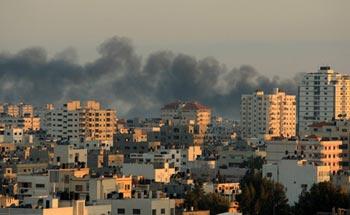 Smoke billows from Gaza City after Israeli artillery
shellings Jan. 10, 2009. Residents in northern Gaza Strip
said Saturday afternoon that Israeli warplanes dropped lots
of leaflets in the area, warning the Palestinians that the
military operations against them would be escalated.
(Xinhua/Wissam Nassar)
Gaza emergency chief Mo'aweya Hassanein told reporters the death toll since the beginning of offensive on Dec. 27 has mounted to 854 people after discovering the bodies of 18 people under destroyed houses rubbles all-over the Gaza Strip.
More than 3,500 people are wounded, he said.
Witnesses said that the last hours of the 15th day of the Israeli offensive, Israeli warplanes carried out a series of airstrikes on northern and southern Gaza Strip as well as on Gaza City, while tanks also continued its shelling.
Hassanein said 11 Palestinians were killed on Saturday night, while 19 more people were killed during the day, and more than 70 people injured.