World
People worldwide protest against Israel
Source: CCTV.com | 01-10-2009 12:34
Special Report: Israel airstrikes in Gaza

The prolonged Israeli offensive against Gaza has triggered continued anti-Israeli demonstrations across the globe. Protestors around the world want to see a quick end to the violence in the Gaza and effective relief operations for the people caught up in the violence.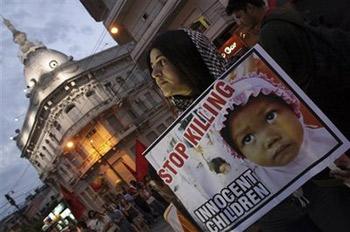 A demonstrator holds a sign during a protest against Israel's
military strikes on the Gaza Strip in Asuncion, Paraguay,
Friday, Jan. 9, 2009. (AP Photo/Rene Gonzalez)
The West Bank and Jerusalem saw the biggest anti-Israeli protests so far on Friday.
In East Jerusalem, Palestinian youths took to the streets to express their anger at the Israeli bombardment in Gaza. Some got into skirmishes with Israeli forces.
In the West Bank town of Hebron, thousands of Palestinians gathered to protest against the conflict. Demonstrators threw stones at Israeli soldiers, while Israeli forces responded with tear gas and stun grenades.
And in Bilin, protestors dressed as Holocaust concentration camp inmates marched through the streets.
Anti-Israeli protests also erupted within the Arab community in Israel on Friday.
Hundreds of people took to streets of the Arab-Israeli town of Baqa el-Gharbiya to denounce Israel's actions.
The demonstrators waved Palestinian flags to express their support of the dead, and chanted slogans against the continuing Israeli operations.
Israeli Arab demonstrator Amir Moassiah, said, "We think that this is the minimal thing that we can do in order to solidate with our brothers in Gaza Strip, as Arabs in Israel have no means to 'fight' - in quotation - the aggression of Israel to our brothers in the Gaza Strip."
Protests were also seen across the Middle East.