World
Protesters denounce Israeli attack on Gaza
Source: CCTV.com | 01-08-2009 13:39
Special Report: Israel airstrikes in Gaza

People in various countries have continued to protest against Israel's attacks on Gaza, showing their support for the Palestinian people.
There were protests throughout Latin America on Tuesday.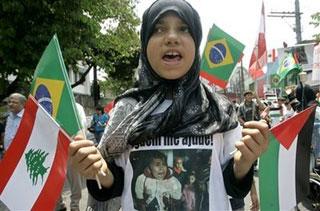 A girl shouts slogans during a protest against Israel's
military strikes on Gaza in Sao Paulo, Wednesday, Jan. 7,
2009. (AP Photo/Nelson Antoine)
One of the largest was in Argentina, where hundreds of protesters marched to the Israeli embassy to demand an end to the violence.
Outside the embassy building, President of the Confederation of Argentine Arab Entities called on the world to react.
In Venezuela, President Hugo Chavez launched a blistering attack against Israel. He said the country should appear before the international criminal court for its actions. Chavez called on the Israeli people to stand up to the government.
Venezuelan followed up his statements by expelling the Israeli ambassador from capital Caracas.