China
Chinese navy ships start patrolling
Source: CCTV.com | 01-07-2009 09:00
Special Report: China navy's escorting mission

Click for more news in China Today>>
After an 11-day voyage, three Chinese Navy ships have reached their destination, the Gulf of Aden. The fleet includes two of China's most sophisticated destroyers, sent to help patrol one of the world's most dangerous marine routes.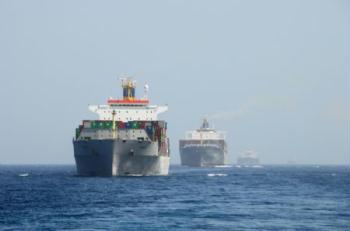 Photo taken from missile destroyer "Wuhan" of a Chinese
naval fleet shows four Chinese ships sailing in the Gulf
of Aden under the escort of the Chinese naval fleet,
Jan. 6, 2009. The Chinese naval fleet arrived Tuesday in
the waters of the Gulf of Aden off Somalia to carry out
the first escort mission against pirates. Four Chinese ships,
including one from China's Hong Kong Special Administrative
Region, were escorted by the fleet. (Xinhua Photo)
The naval task force began their duties soon after they arrived on Tuesday morning. The first group to benefit from their protection was four ships from Shanghai, Hebei province and Hong Kong. Domestic vessels planning to use the route are allowed to apply for protection seven days in advance.