World
humanitarian situation in Gaza
Source: CCTV.com | 01-06-2009 14:59
Special Report: Israel airstrikes in Gaza

The expansion of the Israeli offensive -- into ground battles and artillery salvos -- has taken a heavy toll on civilians in the crowded coastal territory of Gaza.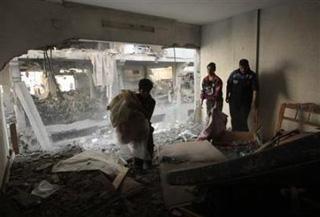 Palestinians survey their damaged house after an Israeli
air strike in Gaza January 5,2009.(Mohammed Salem/Reuters)
The number of Palestinian casualties has surged as the humanitarian situation in Gaza continues to worsen.
More than a week of deadly attacks have been forcing Palestinians in the Gaza Strip into one of their toughest plights in decades.
In the southern city of Rafah, people ran for shelter as explosions rang out on Monday the 10th day since Israel launched its strikes on the Gaza Strip.
Children caught up in the mayhem were in clear distress.
Nearly 90 children have been reportedly killed so far. That accounts for 15 percent of the dead in the Gaza Strip. Hundreds of other Palestinian children have been injured.
Also on Monday, Palestinian residents in northern Gaza fled their homes due to non-stop, intense fighting.
Refugee families left behind their homes, escaping with a few essential belongings before relocating to Gaza City. There, they are being placed in school classrooms.
Some refugees say the Israeli army has continuously attacked civilians in his homeland.