World
Somalia: Saudi oil tanker still being held
Source: CCTV.com | 12-26-2008 14:17
Special Report: China navy's escorting mission

Somali pirates continue to hold a Saudi oil tanker, the Sirius Star, for ransom. And a German military helicopter foiled another attempt by pirates to seize an Egyptian ship off the coast of Somalia on Thursday.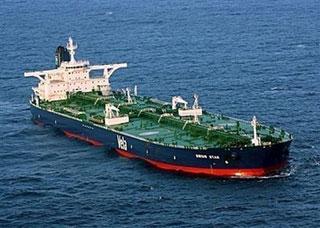 The Saudi oil tanker Sirius Star is anchored off the
coast of Somalia in November 2008. (AFP/US Navy)
Despite stepped-up negotiation efforts, pirates continue holding on to the Saudi oil tanker which was hijacked last month. Crude oil on board the ship alone is worth over 100-million US dollars.
But ship owners and the pirates have not agreed on an exact value for a ransom. Meanwhile, the German success comes as more countries are sending warships to patrol off the Horn of Africa nation.
According to the International Maritime Bureau, Somali pirates have attacked 110 ships in the Gulf of Aden this year, successfully hijacking 42.
Editor:Zhang Pengfei