World
U.S. asks India not to take steps that could worsen situation
Source: Xinhua | 12-05-2008 07:56
Special Report: Terror attacks in Mumbai

ISLAMABAD, Dec. 4 (Xinhua) -- U.S. Secretary of State Condoleezza Rice Thursday cautioned India from taking steps that could worsen the situation and hoped that Pakistan and India would keep the lines of communication open.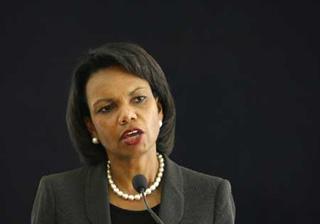 U.S. Secretary of State Condoleezza Rice speaks during
a news conference in Islamabad before leaving Pakistan
December 4, 2008.(Xinhua/Reuters Photo)
Rice flew into Islamabad Thursday morning and held talks with Pakistan's President Asif Zardari and Prime Minister Yousuf Raza Gilani aimed at reducing tension between Pakistan and India over attacks in Mumbai.
"It doesn't help to do something that might worsen the problem or have unintended consequences," Rice told a news conference at the end of her short visit to Islamabad.
"I have made that clear on both stops but there needs to be action urgently and transparently," She said.
"Whatever is done, the response has to be effective both in bringing people to justice and in preventing a further attack," she said. "That has been a message that has been well received here in Pakistan because it is Pakistan's fight as well."
Asked about any possible Indian strike on elements within Pakistan, Rice said that the most effective way to respond was through international cooperation including India and anyone else who can help like the U.S., Britain and includes Pakistan.