World
Investigators launch probe into Mumbai attack
Source: CCTV.com | 12-02-2008 09:51
Special Report: Terror attacks in Mumbai

Investigators in Mumbai have begun their probe after authorities finished clearing three sites attacked by terrorists.
And across India, people are gathering to remember those who died in what they are calling India's own September 11th attack.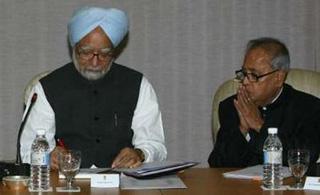 India's Prime Minister Manmohan Singh (L) and Foreign
Minister Pranab Mukherjee attend an all-party meeting
in New Delhi November 30, 2008. REUTERS/B Mathur
If there is anything that could touch a nerve, this is definitely it.
Local officials in Mumbai surveyed the scene inside the Taj hotel on Sunday. Broken glass, debris, overturned furniture and bullet-riddled walls are everywhere they turn.
Investigators say the only gunman captured alive has admitted he belongs to a Pakistani militant group with links to the Himalayan region of Kashmir.
The gunman said he was trained at a camp inside Pakistan. Local media reported that Washington has sent FBI agents to help with the investigation.
While the counter-terrorist efforts in Mumbai has come to an end, many people have taken to the streets to show their dissatisfaction with the government's lackluster reactions. Some were asking how the 10 gunmen were able to paralyze the city for three days.
Facing increasing criticism, Indian Prime Minister Manmohan Sign called a meeting in New Delhi, pledging to strengthen the country's security forces.
Manmohan Sign, Indian Prime Minister, said, "We are determined to take all necessary measures to overhaul the system. We are further strengthening maritime and air security for which measures have been initiated. This will involve the Navy, the Coast Guard and the Coastal Police, as well as the Air Force and the Civil Aviation Ministry."
The prime minister also said he will look into creating a new federal investigative agency to prevent similar incidents.
Across India, memorials and funerals are being held to remember the victims. They are praying that merciless attacks killing innocent people like this one will not happen again.
Editor:Zhang Pengfei