World
Police: Hostages in Mumbai´s Taj Hotel rescued
Source: | 11-28-2008 09:09
Special Report: Terror attacks in Mumbai

MUMBAI, Nov. 27 (Xinhua) -- All hostages at Taj Hotel here have been rescued, but there could still be some people trapped at Trident Hotel and Nariman House where operations were on to flush out militants, Maharashtra police chief A N Roy said Thursday.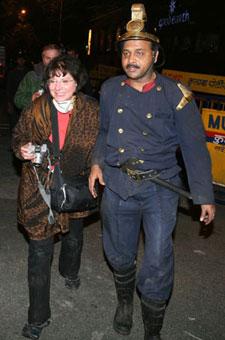 A foreign guest staying at the Taj Hotel
reacts after being rescued by a fireman
in Mumbai November 27, 2008. At least 101
people have been killed in attacks by
gunmen in Mumbai, police said on Thursday.
(Xinhua/Reuters Photo)
All people trapped in Taj Hotel in Mumbai were rescued and there was no hostage-like situation there right now, said Director General of Police (DGP) A N Roy.
"There are guests in the rooms, but we won't be able to give you a number," he said, adding that terrorists struck very quickly and shootings took place in 12 places.
He made it clear that there would be no negotiations with the terrorists, and "we will very soon get them either alive or dead."
Security forces had launched an assault to flush out terrorists from two luxury hotels -- Taj and Trident (Oberoi) -- where some 100 people were believed to be either held hostage or trapped in the most audacious terror attacks that have claimed over 100 lives and left over 300 injured in India's financial capital Mumbai.
Earlier in the day, a senior army officer said at least four terrorists are holed up in the Taj Hotel where 40 to 50 guests were still trapped.
"In this area there are four to five terrorists," Major R K Hooda, General Officer Commanding of Maharashtra, Goa and Gujarat said. There are an estimated 40 to 50 guests still trapped in the hotel, he said.
There can be 10 to 12 terrorists involved in the terror attack at a hotel in Mumbai, Maharashtra Deputy Chief Minister R R Patil said Thursday. Five of them have been killed and one of them arrested, he told reporters outside the hotel as security forces prepared to launch an assault to end the terror.
Patil said he was not sure about the exact number of hostages in the hotel where commandos of NSG and Mumbai Police were involved in the operation.
He said they have not received any demands from militants and hoped that a breakthrough will be achieved soon. Patil said the operation was delicate in view of the safety of the hostages. He claimed police have got some leads but declined to elaborate.