World
At least 80 killed, 250 injured in Mumbai terror attacks
Source: Xinhua | 11-27-2008 07:51
Special Report: Terror attacks in Mumbai

MUMBAI, Nov. 27 (Xinhua) -- At least 80 people were killed and 250 others injured when terror struck the Indian financial capital of Mumbai late on Wednesday night in a coordinated serial explosions and indiscriminate firing rocked eight areas across the city, hospital sources said.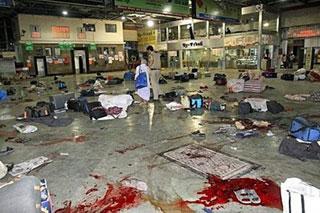 Indian policeman escorts out a survivor from the shooting
site at Chattrapati Shivaji Railway terminal in Mumbai.(AFP)
Two terrorists were still inside the Oberoi Hotel, one of the two five star hotels under attack, and commando operation was on. Two terrorists were killed at Chaupatti, police said.
Terrorists hijacked white police jeep near Metro cinema in South Mumbai. Firing was also reported near Maharashtra state assembly building in South Mumbai. Armed with AK-47 rifles and grenades, a couple of terrorists entered the passenger hall of CS Trailway station and opened fire and threw grenades, Mumbai General Railway Police Commissioner A K Sharma said.
The terror strike which began at 10:33 p.m. local time at Chhatrapathi Shivaji Terminus (CST), formerly known as the Victoria Terminus (VT), claimed 10 lives in the premises of the station alone, police said.
Three persons were killed in a bomb explosion in a taxi on Mazegaon dockyard road and an equal number were gunned down at TajHotel. The victims were employees of the hotel. The lobby of the Oberoi hotel was on fire and the people inside the hotel have been evacuated, eyewitnesses said.
Sharma said 30 persons were injured in the CST attack. Commandos were rushed to the CST which wore a deserted look and train services suspended. Maharashtra Chief Minister Vilasrao Deshmukh is cutting his Kerala visit and returning to Mumbai. He described the situation in Mumbai as "very serious."
Prime Minister Manmohan Singh has condemned terror attacks in Mumbai and assured Maharashtra government of all assistance.