World
Major US car makers plead for capital injection
Source: CCTV.com | 11-20-2008 09:13
Special Report: Global Financial Crisis

Meanwhile, The CEO of General Motors, Rick Wagoner, told the House Financial Services Committee in Washington that the collapse of the US auto industry could lead to a loss of three million jobs within the first year and ripple throughout communities around the nation.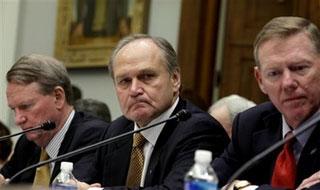 Auto industry executives, from left, General Motors Chief
Executive Officer Richard Wagoner; Chrysler Chief Executive
Officer Robert Nardelli; and Ford Chief Executive Officer
Alan Mulally, testify on Capitol Hill in Washington,
Wednesday, Nov. 19, 2008, before a House Financial Services
Committee hearing on the state of the auto industry.
(AP Photo/Evan Vucci)
Chrysler CEO, Bob Nardelli, rejected suggestions that the automakers should seek Chapter 11 bankruptcy protection similar to airlines that later emerged restructured and leaner.
And Ford Motor Company CEO, Alan Mulally, said the three automakers are highly interdependent and that their collapse would have a "devastating ripple effect across the entire US economy."
The Chairman of the House Financial Services Committee, Barney Frank, suggested that a congressional bias exists to the extent that lawmakers seem more inclined to intervene to help white-collar bankers than blue-collar auto workers.
Editor:Zhang Pengfei