China
Chen Yunlin returns to Beijing with achievements
Source: CCTV.com | 11-08-2008 12:50
Special Report: ARATS Chief visits Taiwan

The Mainland's top Taiwan affairs negotiator has returned to Beijing after an historic five-day visit to Taiwan, which produced agreements on trade and transport.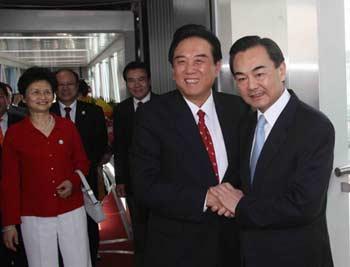 President of the mainland's Association for Relations Across
the Taiwan Straits (ARATS) Chen Yunlin returned to Beijing,
China, on Nov. 7, 2008, after completed a five-day historic
visit to Taiwan. Wang Yi, director of both the Taiwan Work
Office of the Communist Party of China Central Committee and
the Taiwan Affairs Office of the State Council received him
at the Beijing Capital International Airport at 13:50 local
time.(Xinhua Photo)
Chen Yunlin was greeted by Wang Yi, Director of the Taiwan Affairs Office, at the airport. They say the achievements of this visit are a milestone of cross-straits ties. Wang says Chen's visit has started a new negotiation mechanism to allow broader exchanges for peace and development of the Taiwan Straits. Chen says he believes his visit benefits the Taiwan people, and will gain in support, despite some disturbances during his visit.
ARATS chairman Chen Yunlin said, "There were some disturbances during our trip to Taiwan this time. But what both sides have accomplished, in terms of the agreements and peace between both sides of the straits, continues to move forward."
Wang Yi, director of State Council Taiwan Affairs Office, said, "The discussions between the two sides have reached a new level. Our development shows a bright future which will benefit the peoples of both sides of the straits, and bring peace to the Taiwan Straits."
Editor:Zhang Ning