China
ARATS chief concludes historic Taiwan visit, returns to Beijing
Source: Xinhua | 11-07-2008 10:06
Special Report: ARATS Chief visits Taiwan

TAIPEI, Nov. 7 (Xinhua) -- The Chinese mainland chief negotiator on Taiwan affairs, Chen Yunlin, returned to Beijing Friday afternoon completing a five-day historic visit to Taiwan.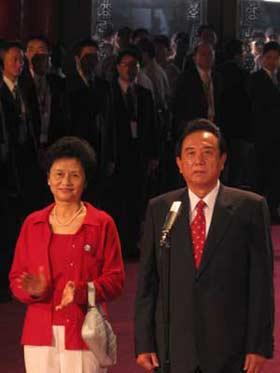 Chen Yunlin(R), president of the mainland's
Association for Relations Across the Taiwan
Straits (ARATS), together with his wife Lai Xiaohua,
poses at a send-off ceremony in Taipei, southeast
China's Taiwan province, Nov. 7, 2008. Chen Yunlin
left here on Friday morning, concluding his five-day
historic visit to Taiwan.(Xinhua Photo)
Chen, president of the mainland's Association for Relations Across the Taiwan Strait (ARATS), arrived at the Beijing airport at 13:50 local time.
"The visit completed a long-awaited and honored mission entrusted by compatriots across the strait," Chen said at a brief send-off ceremony before leaving Taipei's Grand Hotel.
"The road ahead is very long and there will be various difficulties, but we will definitely take our responsibility," Chen said.
Chen said the ARATS and Taiwan's Straits Exchange Foundation (SEF) will live up to the expectations of compatriots across the strait, Both organizations will continue working for mutual benefits
He said he left Taiwan with a sense of the people's "deep friendship towards mainland compatriots," and with their understanding and support of his delegation.
Chen said he hoped more Taiwan people would visit the mainland and promised that Taiwan visitors would have harmonious and pleasant experiences on the mainland.
SEF chairman Chiang Pin-kung praised Chen's visit at the ceremony, saying that it was short but "fruitful".
He said many Taiwan media conducted a poll about his meeting with Chen. "One poll said 52 percent of the Taiwan public showed approval of the talks and another gave 56 percent approval showing that our efforts were not made in vain," said Chiang.
Chiang promised that his organization will continue to work for peace across the strait and mutual economic benefits between Taiwan and the mainland.
Set up in 1991 and 1990 respectively, the ARATS and the SEF were two non-governmental organizations authorized by the mainland and Taiwan to handle cross-strait issues.
During Chen's stay in Taiwan, he held talks with Chiang, the first time this has ever happened between ARATS and SEF leaders on the island.
The two signed four agreements on direct shipping, air transport, postal services and food safety. No cross-strait political issues were involved in the talks.
The two organizations also discussed cooperation to cope with the international financial crisis.
On Thursday, Taiwan leader Ma Ying-jeou met briefly with Chen and his delegation.

Editor:Zhang Ning