China
Mainland, Taiwan agree on direct cross-Straits transport, mail
Source: Xinhua | 11-05-2008 08:19
Special Report: ARATS Chief visits Taiwan

TAIPEI, Nov. 4 (Xinhua) -- The Chinese mainland and Taiwan agreed on Tuesday to allow civilian planes and ships to directly cross the Taiwan Straits.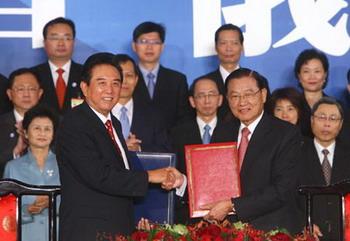 Chinese mainland's Association for Relations Across the
Taiwan Straits (ARATS) President Chen Yunlin (front L)
shakes hands with the Taiwan-based Straits Exchange
Foundation (SEF) Chairman Chiang Pin-kung (front R) after
signing four agreements on direct sea transport, direct
flights, post service and food safety cooperation in Taipei
of southeast China's Taiwan Province Nov. 4, 2008.
(Xinhua/Xing Guangli)
The mainland's Association for Relations Across the Taiwan Straits (ARATS) president, Chen Yunlin, and Taiwan-based Straits Exchange Foundation (SEF) chairman, Chiang Pin-kung, signed agreements on direct shipping and flights, postal services and food safety during their first summit in Taipei on Tuesday.
The agreements are expected to end a situation that has prevailed since 1949, under which air and sea movements between the Chinese mainland and Taiwan go through a third place.
As two main negotiating bodies of the Chinese mainland and Taiwan, the ARATS and the SEF agreed to set up a direct air route between Shanghai and Taipei. They will continue negotiating another route linking the southern part of Taiwan with the mainland, said the agreement on direct flights.
Direct flight from Taipei to Shanghai is only about 80 minutes but, under current weekend charter flight arrangements, it takes two hours and 42 minutes as planes must fly over Hong Kong.
The two sides agreed to launch a cargo charter flight service between two mainland terminals, Pudong in Shanghai and Guangzhou airports, and two Taiwan ones, Taoyuan and Kaohsiung.
There will be 60 return cargo flights per month, evenly divided between mainland and Taiwan airline companies.
In addition, the two sides will launch regular passenger charter flights, instead of only at weekends and the four major traditional festivals.
The mainland agreed to open another 16 terminals for passenger charter flights, besides the five already opened, while Taiwan has already opened eight terminals.
The number of flights will increase to 108 every week, also divided evenly, with the number to be adjusted according to demand.