World
IAEA: Iran not developing nuclear weapons
Source: CCTV.com | 10-21-2008 09:45
The head of the International Atomic Energy Agency says Iran is NOT close to developing nuclear weapons of its own.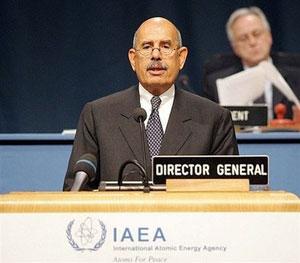 International Atomic Energy Agency (IAEA) chief Mohamed
ElBaradei speaks during a IAEA general conference in
September 2008 in Vienna.(AFP/File/Dieter Nagl)
Mohammed ElBaradei says Iran doesn't even have the basic material to develop a nuclear bomb. The US,
Britain, and France, have been concerned that Iran is working toward building an atomic bomb, and want its uranium-enrichment program to be stopped.
But Tehran says its goals are entirely peaceful, and it has no plans to build nuclear weapons.
Last month, a UN Security Council resolution reaffirmed previous sanctions, but stopped short of imposing new ones, because of resistance from China and Russia.
Editor:Zhang Pengfei