China
Scientists complete sequencing giant panda genome
Source: Xinhua | 10-13-2008 08:42
SHENZHEN, Oct. 11 (Xinhua) -- Chinese scientists have completed sequencing the genome of giant pandas. The announcement was made here Saturday.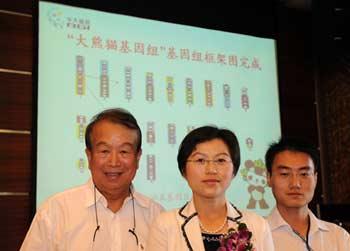 Giant panda research experts Pan Wenshi (L), Hou Rong (C),
and Tian Geng pose for a photo in front of the genome of
giant pandas in Shenzhen, south China, on Oct. 11, 2008.
The announcement that Chinese scientists have completed
sequencing the genome of giant pandas was made in Shenzhen
on Saturday.(Xinhua Photo)
They hope the new information will give them a better biological understanding of why pandas eat bamboo, have black circles around their eyes and produce few offspring.
"By sequencing the giant panda genome we've laid the genetic and biological foundation for us to gain a deeper understanding of the peculiar species," said Dr. Wang Jun, a scientist with the Beijing Genomics Institute's Shenzhen branch (BGI Shenzhen), a core participant in the project.
So far, scientists learned, through drawing and assembling the genome sequence, that giant pandas are akin to dogs and human beings but are very different from mice.
They also discovered more supporting evidence that giant pandas might be a subspecies of black bears.
Giant pandas, known for being sexually inactive, are among the world's most endangered animals due to a shrinking habitat. It's one reason why scientists decided to sequence its genome.
"It will help genetically explain why giant pandas have poor reproductive abilities, so that scientists can help them deliver more cubs," Wang said.
Enhanced disease control was another benefit of the study, Wang said.
The International Giant Panda Genome Project started in March 2008 with scientists from China, Britain, the United States, Denmark and Canada.
According to BGI Shenzhen scientists, data from the project is expected to have an extensive impact on various scientific areas such as ecology, evolution and sequencing technology.