China
Chinese scientists start studying samples from Shenzhou-7
Source: Xinhua | 10-07-2008 16:43
Special Report: Shenzhou-7 Manned Space Flight

LANZHOU, Oct. 7 (Xinhua) -- Chinese scientists on Monday unsealed a box of solid lubricant samples that were aboard the Shenzhou-7 spacecraft. They will study the material for the next six months.
"Two types of solid lubricant samples, after being exposed to outer space during the Shenzhou-7 mission, had shown obvious changes," said Liu Weimin, head of the Lanzhou Institute of Chemical Physics of the Chinese Academy of Sciences in northwest Gansu Province.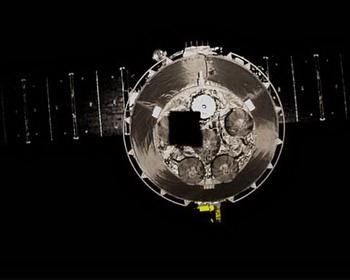 Picture released by China's manned space project on Oct. 5,
2008 shows the image of China's Shenzhou-7 spaceship, taken
by a small monitoring satellite six seconds after it was
released from the spaceship on Sept. 27, 2008. Launched
about two hours after Chinese astronaut Zhai Zhigang
finished the country's first spacewalk, the monitoring
satellite has sent back over 1,000 pictures of the spaceship.
The shadow on the spaceship was that of the monitoring
satellite. (Xinhua Photo)
"The appearance of the two types of samples has either turned dark or become rougher," he said.
Solid lubricants are widely used in spacecraft to reduce friction because they withstand high temperatures.
Scientists hoped to improve the stability and lifetime of the materials by studying the test samples taken to outer space.
Liu said scientists would compare the samples with those exposed to a simulated space environment in the laboratory.
"We need to know how the lubricants react to being in a vacuum, atomic oxygen and low temperatures in outer space," he said.
If scientists discover the difference between the two exposed lubricants, they might be able to tell how other materials change in outer space, Liu said.
The solid lubricant samples, loaded outside the Shenzhou-7 capsule and retrieved by astronaut Zhai Zhigang during his spacewalk, weighed about 2.2 kg. They were exposed to outer space for 44 hours.
The Shenzhou-7 space module, carrying three taikonauts, landed safely by parachute on Sept. 28 in China's northern grasslands after a 68-hour flight. The mission included the first ever spacewalk by a Chinese astronaut.
Editor:Du Xiaodan