China
Wishes to China´s 1st spacewalker
Source: CCTV.com | 09-28-2008 13:49
Special Report: Shenzhou-7 Manned Space Flight

China's first spacewalker, Zhai Zhigang, used to serve as a pilot tutor at an air force training base. He is a first-class pilot with over one thousand safe flying hours. In January 1998, Zhai was chosen as one of China's first generation of astronauts.
In the air force training base where Zhai Zhigang used to serve, his former colleagues and other pilots turn the TV on as soon as they finish night training and cheer for him.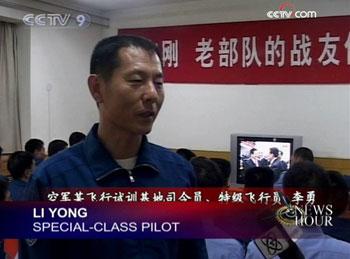 Li Yong, special-class pilot
Li Yong, special-class pilot said "We were colleagues and flied together. I'm so proud of him and I admire him for his diligence, fortitude and courage. I would like to convey my best wishes for the success of the mission and I hope he will return safely."
Zhai Zhigang was born in 1966 in Longjiang County, in northeast China's Heilongjiang Province. He joined the air force of the People's Liberation Army in 1985, and became a pilot tutor in 1997.
Of all the people watching the mission, Zhai's wife is perhaps the most anxious.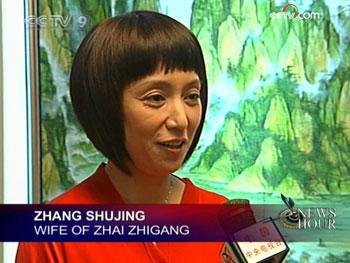 Zhang Shujing, wife of Zhai Zhigang
Zhang Shujing, wife of Zhai Zhigang said "I keep watching TV and I can tell he's very tired even though he didn't say anything. The mission is a dream come true for him. My biggest wish now is for him to get a good rest back home."
The Shenzhou-7 spacecraft is expected to land in Inner Mongolia on Sunday afternoon and China can welcome home the space heroes.
---
 Interactive: Be part of China's journey to space!
Editor:Xiong Qu