China
Chinese taikonauts report they feel "physically sound"
Source: Xinhua | 09-25-2008 22:01
Special Report: Shenzhou-7 Manned Space Flight

BEIJING, Sept. 25 (Xinhua) -- Three Chinese taikonauts who blasted off on the Shenzhou-7 spacecraft told the ground control center that they felt "physically sound" in the first few minutes of the flight.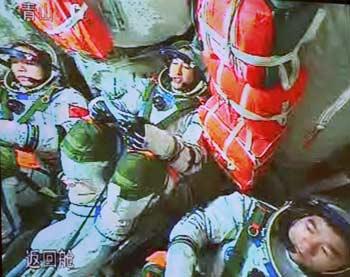 The video grab taken on Sept. 25, 2008 at the Beijing Space
Command and Control Center in Beijing, China, shows Chinese
taikonauts in the return module of the Shenzhou-7 spacecraft.
(Xinhua Photo)
The space voyager took off at 9:10 p.m. on Thursday from the Jiuquan Satellite Launch Center with leaders including President Hu Jintao present seeing off the taikonauts -- Zhai Zhigang, Liu Boming and Jing Haipeng.
"The solar panel has unfolded and we feel well," one of the crew members told the Beijing control center.
The Shenzhou-7 mission, featuring a spacewalk, is China's third manned spaceflight.
---
 Interactive: Be part of China's journey to space!
Editor:Zhang Ning