China
President Hu attends pre-launch ceremony for 3 astronauts
Source: CCTV.com | 09-25-2008 19:21
Special Report: Shenzhou-7 Manned Space Flight

Full Video: President Hu attends pre-launch ceremony for the three astronauts
The countdown to the launch of the Shenzhou 7 mission continues this evening with the spaceship due to launch in a little over 2 hours time. Chinese President Hu Jintao has arrived at the Jiuquan Satellite Launch Center in Gansu Province to watch the launch. He also attended the pre-launch ceremony for the three astronauts.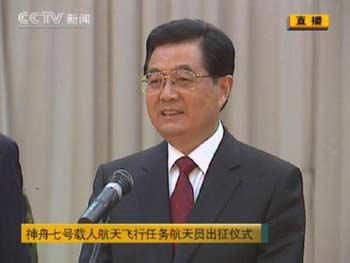 President Hu attends pre-launch ceremony for 3 astronauts
President Hu Jintao expressed gratitude to the three astronauts Zhai Zhigang, Liu Boming and Jing Haipeng, on China's third manned space mission. He wished them success.
President Hu Jintao said, "The Shenzhou 7 mission is the first task of the second phase of China's manned space project. You will perform tasks in outer space using a Chinese-made space suit, which is a great step forward in the development of China's space technology. I believe that with the whole nation behind you, full preparations and strict training, you will complete the mission successfully. The nation and the people are waiting for your safe return."
The astronauts expressed appreciation for the concern from the president and people.
Astronaut Zhai Zhigang said, "We will obey our orders, keep calm and complete the space mission successfully."