World
Political unrest continues in Bolivia
Source: CCTV.com | 09-14-2008 10:10
Bolivian President Evo Morales says he doesn't want to break relations with Washington. This comes after his expulsion of a top US diplomat, and ongoing political unrest in the country.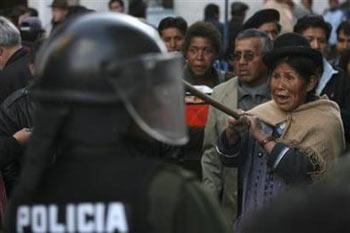 A supporter of Bolivia's President, Evo Morales, shouts
slogans against Tarija's governor Mario Cossio as he arrives
at the Government Palace in La Paz September 12, 2008. Violent
anti-government protests have killed eight people in Bolivia,
where rightist governors have rebelled against the popular
president demanding autonomy and rejecting his plans to
overhaul the constitution and break up ranches to give land
to poor Indians.(Ivan Alvarado/Reuters)
Evo Morales told a press conference on Saturday it's not in Bolivia's interest to see a worsening relationship with the United States. That remark comes in spite of the expulsion of the US ambassador to Bolivia.
Evo Morales, Bolivian President said "The presence of the government of the US is desirable. We will never want to break diplomatic relations with anybody, but what the US ambassador was doing is very serious."
Morales says former ambassador Philip Goldberg secretly met provincial opposition leaders on numerous occasions.
He also accuses Goldberg of inciting violent protests in the country that have left eight people dead since Thursday.
Bolivia's President Evo Morales speaks during a press conference
in La Paz, Saturday, Sept. 13, 2008. Morales said he does not
want to break relations with Washington, after the ousting of
the U.S. ambassador to Bolivia last Wednesday, and that he is
considering to extend the state of siege to other rebel regions,
depending on the results of a dialogue process launched Friday.
(AP Photo/Martin Mejia)
The ambassador's expulsion seemed to have a ripple effect in the region. President Hugo Chavez of Venezuela expelled the US ambassador to Caracas, and the president of Honduras declined the diplomatic credentials of the new US ambassador.
Morales also announced more restrictions on civil liberties to curb provincial unrest.
Anti-government protestors are demanding the cancellation of a nationwide vote later this year. They say if the new constitution is passed it would help Morales centralize power and transfer land to peasants.
Editor:Xiong Qu